Founded By Srikar Vytla, 1980 Military Hotel Is A Pure Nostalgia For Hyderabad Non-veg Lovers.
|
Talking to Biz Innings, Srikar Vytla, Founder of 1980's Military Hotel shares his food love and some interesting stories from his entrepreneurial journey.
At a Glance
Srikar Vytla is a Foodprenuer turned banker, his food love is peerless, Srikar's bond with home-cooked food and kitchen experiments made him launch Aaha Food Village( Manikonda) and 1980's Military Hotel to give a pure home-cooked food experience to foodies. From its inception, Aaha Food Village is one of the favourite go-to places for Hyderabais to explore retro style breakfast recipes especially sourced from the Godavari districts and 1980's military hotel's non-veg delights are Hyderabad foodies new love. Here is Vytla's success story in his own words.

Edited excerpts
When did your food love turn into a business?
I'm a foodie from my childhood, food is my passion, getting into the food business was always on my mind, like most of the guys I too hail from a traditional middle-class family and has to go through the regular orthodox process of work first, save money and invest in the business, I had a very good banking career, exactly 5 years ago I felt that I had enough savings to invest on my food business and quit my job got into the food business to test my luck.
Take us through your journey from Aaha food village to 1980's Military hotel
I started Aaha Food Village in 2017 and it was a huge success, we introduced authentic tiffins like Pottakkalu, dibbarotti, pullaattlu and many other authentic regional Godavari tiffins at Aaha food village, although Aaha was an instant hit, I always had a dream to establish a desi style nonveg restaurant, finally, during the COVID phase, we gave a shape to the thought, experimented with quite a lot dishes joined hands with perfect people to launch 1980's Military Hotel.
Who are the key members in your team, what responsibilities do they carry and in what positions?
Phani Varma, Sahu are key members in designing the whole Idea including the look feel of the restaurant and my partners as usual helped me in experimenting with new dishes.
COVID was a bad phase for all the businesses, but you dared to launch 1980's military hotel during this downtime and made it a successful venture in just 6 months, what was running in your mind throughout this phase?
We were in a dilemma about 1980's launch after this panic phase, but I have no other option as I knew only food business, so I took this initiative with lots of risks, we finally launched 1980's Military Hotel as planned. We got immense love from everyone, mainly from Aaha customers who believed us and encouraged us from day one, in no time our place has become a favourite food joint for all the celebrities.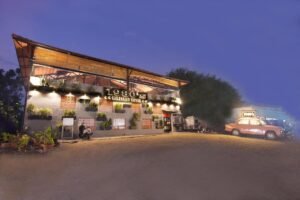 How is a military hotel different from other cuisines?
I always want to be unique from others, when I travelled down to South – Karnataka , Tamilnadu I came across these Military Hotels,  I loved their concept. I was amazed by their simple interiors, menu and authentic retro-style recipes, I visited almost every Military hotel across these two states to get some inspiration, gathered some recipes, cooked them at home and gave them a little twist to ensure it bursts Telugu flavours in the mouth.
Take us through your hot sellers and some best compliments you got so far
Chitti Muthyalu Mutton Pulao
Chicken Fry Piece Biryani
1980's Crispy Chicken
Crab roast
Ulli Guddu
Chitti Muthyalu Mutton Pulao is our best seller, most of the customers visit regularly for Mutton Pulao.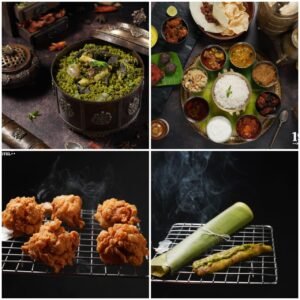 From introducing Godavari breakfasts through Aaha food village to launching 1980's military hotel, you have been constantly innovating, what drives you to innovate?
As I said earlier, food is my passion, I can invest 24 hours of my time. I always think from a customer perspective and want to give them my best. Everyone should enjoy eating food, giving customers a feel like home is our success formula, our dishes carry those native flavours which our taste buds are used to from our childhood, somehow due to the western food domination indians ignored native recipes, for a while but slowly they are getting back to roots, its a good sign for food business, once you taste any of our dishes I'm sure it's gonna take you back into the native mood.
Aaha food village at Manikonda and 1980's military hotel are instant hits, but in between, you bled badly with Aaha Kukatpally, why was that a disaster though you personally took care of the operations?
Yes, we launched Aaha Kukatpally with Military Concept in August 2020 with a budget menu. Within 4 Months it became a huge success. COVID was a bad phase for us, we want to reopen our restaurant after this Pandemic but there were issues with the site owner, he didn't have faith in the food business after Covid, we too didn't find any potential place to lease nearby and I have to let it go.
Who were your driving force and helping hands when you were trying to bounce back?
Phani, Sahu are my big helping hands, my wife has been a constant supporter in operations, she is the one who stood for me during the lows and ups.
You have been travelling a lot to experiment with new dishes, how's it going? what's your favourite cuisine?
I go on road trips only to explore new dishes and cusines. I travelled all corners of India to taste the best food. I Love all cuisines, but what I choose to eat varies based on my mood, one take away out of my food exploration is that foodies tend to stick to native dishes in the long run, though they try new dishes often ,they get back to restaurants that give the the feeling of home, I built my entire business on this single concept. If you notice almost all my dishes are the ones which we have been eating from our childhood, till date I never relied on any fancy chefs, all the recipes are sourced from my mom's and relatives kitchens.
From a banker to a successful foodpreneur, how is the journey so far?
It's been tough in the starting stage, when I resigned from my job to start food business there were a lot of struggles, thanks to my family who stood to me in all odds especially during my initial days.
You are undoubtedly one of the most successful and innovative foodprenuers in Hyderabad, what's next? What are your future plans?
Oh! thanks for the big title, our immediate focus is to spread across Hyderabad and later venture into other cities of India, we just started our baby steps towards it, we should hopefully make it possible in the next two years from now.
---