Deli 360 Founder, A 24 year Old Foodprenuer Is Redefining Cloud Kitchen Concept By Tagging Restaurants.
Talking to Biz Innings, Siva Tejeswar Reddy, Founder and CEO of Deli 360 says his team is all set to show the real taste of Cloud kitchens to India, he also added that they are going strong with food delivery business via their app and laying a strong ground to launch vegetable, groceries and meat delivery business soon.
At a Glance

In today's volatile world, the only thing that is constant is cut-throat competition. With a country population of 1.366 billion, all of them competing to ace in the race of success, there are two kinds of people: leaders and followers. The followers go along with the bandwagon, unlike the leaders who carve their own path, map their own road and embark on a journey of success.
We find most of the youth settling for not so deserved jobs with a mediocre mindset and get struck the rest of their life, but here is the guy who choose to do otherwise, he broke the stereotype and entered into cloud kitchen business to lock horns with the big twos of cloud kitchen and food delivery business by launching Hyderabad's first restaurant tagging enabled cloud kitchen.
Edited excerpts
What's this cloud kitchen buzz all about?
Let me start by saying…The buzz is real and is here to stay… First, let's understand as to what a 'cloud kitchen model' actually is. It operates on a 'Take-away and/or delivery-only' model where there is no physical space for dine-in. The crux of this model is that it's almost entirely online. i.e. 'customer acquisition, Order taking, and delivery are through online food aggregators or an online ordering enabled website or mobile app.
The cloud kitchen format gives the restaurant the flexibility to launch more than one brand using the same kitchen infrastructure. Multi-brand cloud kitchens allow the restaurateur to utilize the same kitchen infrastructure and resources to operate multiple brands.
Throw in a post-pandemic effect into an already difficult operating environment for the restaurants (given the pricy real estate, Investing in expensive interiors for creating a top of the line experience to the customers, managing changing customer preferences on cuisine and pressure from online food aggregators), You will see why it would be the model of choice, almost be a no-brainer option for F&B entrepreneurs going forward.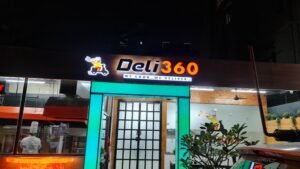 How Deli 360 started, who's in your core team?
The seed for the idea did arise out of my boredom and the fact that I had to travel close to 10-15 Km for a decent place to eat as we were off delivery limits for Swiggy and Zomato. However, it did get a lot more serious after I started observing the existing anatomy of the F&B ecosystem more closely. A couple of initial plans that never really took off only helped me refine my approach on Deli360 over the last 12 months.
Our Current operations are primarily centred around two models 1) Direct cloud kitchen model through our Deli360 Mobile App-based order taking and Delivery services and 2) 'Tag Your Kitchen' model where we offer B2B services to existing food brands to cater to their customers by leveraging our Kitchen and Delivery infrastructure. We have signed up with 4 brands in the last 2 months.
We started off with a simple vision of making "daily culinary routine of our customers, a convenient and enjoyable experience'. Conscious and responsible preparation of 'everyday food' & 'speciality foods' that they can enjoy and also deliver them to their desk/doorstep... and no matter what iteration happens on the business model, this vision continues to be our driving factor.
I would count three people who had a major role in 'Deli360' getting off the ground.
First, Mr Praveen Munukutla, a chartered accountant and professor of finance at NALSAR who mentored me on the project who helped in conceptualization and detailing of my Ideas. He is very much a hand-on in his approach and supports extensively on strategy and planning. Second, Mr Satya Madala, who based our 'Blue Print', developed a technology platform that sets to differentiate us from the others. Third, Mr Sunil of Syala Kitchens, who is the mainstay of operationalization of our first cloud kitchen, a central piece in the Deli360 Plan.
What motivated you to get into the food business?
Being a foodie that I am, I believe that 'good food is a necessity, not just for an occasion'…To be honest, coming from a non-food industry background gave me a fresh insight into how the industry operates and the fact that it still presents opportunities for entrepreneurship.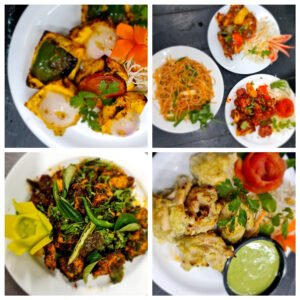 Take us through your kitchen routine?
Commenced our operations since September 2020, we are settling into a good rhythm in terms of our food preparation, Inventory Procurement and delivery operations. Our Kitchen is typically open from 11 am to 3 am on most days to support the operations of 'Tag Your Kitchen' Brand Partners and also serve our direct customers. Like any other regular kitchen, we have a strict SOP (Standard Operating Procedures) based approach to all our activities at the kitchen. Perhaps one major difference is the scale of operations. Our kitchen can handle about 800 to 1000 pax of biryanis or other fast-moving items in a single routine of less than an hour.Strict adherence to the safety protocols put in place and also the sanitization and hygiene procedures while food preparation, packing and delivery are daily normal in our operations. Our Chefs are the superstars of the show at the kitchen. With no ambience of a dine-in, to support the food experience, the food taste dished out by them is our brand ambassador to our customers. The acceptance and customer reviews have been pretty great so far.
What's your revenue model?
As stated earlier, we operate both in B2B and B2C segments. The B2C Model i.e. direct customer orders through the Deli360 Mobile App is fairly straight forward. Our customers can place orders from the Menu and we deliver food at their doorstep. In the B2B segment, we engage with the existing food brands through contracts wherein the order taking, food preparation and handling services on their behalf is managed through our kitchen for a fixed fee model.
Is cloud kitchen a better alternative for restaurants to serve on food delivery aggregators?
While both restaurants and cloud kitchens have their own advantages, Cloud Kitchens are definitely better placed to leverage the Food Delivery Aggregators. In fact, the business model of Cloud Kitchens is primarily dependent on Food Delivery Aggregators who bring in both customers as well as delivery infrastructure to the table. Cloud Kitchens operate on a lean model where there is little to no investment in real estate and ambience. The entire investment is in creating the kitchen infrastructure thereby reducing the running expenditure.
On the flip side, the cloud kitchens are little too dependent on the Food Delivery Aggregators wherein the bargaining power is heavily against them and it takes a very efficient operations team and food recipe acceptability to sustain in the business.
What kind of challenges do you face in convincing restaurants to outsource their signature recipes?
 Actually, it's a lot less challenging in that matter. From our B2B Brand Partners' perspective, it's a win-win situation where they are facility to cater to much larger customer base by leveraging our services and at the same time keeping their signature taste to their customers intact.
What's your USP over your competitors?
That is a tricky question actually. For Starters, we are not traditional cloud kitchens which are totally dependent on Food Delivery Aggregators for their business. In the sense, we are not only aiming to build our independent customer interface through our app and web application, we are also inviting brand partners to share our infrastructure and customer access channels. Secondly, our business model is not built only on 'impulse ordering' from customers. We intend to nurture and build customer mind space through a variety of convenience offerings like 'Design your Meal', the Flexi-Delivery option and Meal Subscription Plans etc.
We heard you are also venturing into online food delivery, meat delivery and offline corporate catering? What specific plans you have to face the giants like Swiggy and Zomato?
Online ordering and delivery form the crux of our operational model. Our backward linkages team is working on an overdrive to create supply lines for various products from the Dairy segment, Poultry and meats section that our customers might be interested in. In a way, that would be an extension of our range of products. However, we are firstly and primarily an F&B services entity.
What's your expansion plans?
We have just started our operations and definitely have big plans for the future. Cloud Kitchen operations and F&B Sector as such is a dynamic and evergreen sector to be present in. Covering the geographical base and making our presence felt in Hyderabad is our first milestone on the way. We can always discuss more of them if you drop by at our kitchen…
Choosing to start on own at 24 years age is terrific? What advice do you like to give to next-gen entrepreneurs/millennials who would like to go your way?
One thing that always drives me is to achieve something big and build a brand on my name. I am still learning my way up to deal with the entrepreneurship challenges and a fairly long way from calling myself a real success. But if I have to say one thing, then it is "Be stubborn about following our passion, but don't be too stupid about it" Being a little adventurous and if we keep our eyes open, you would be surprised to see that opportunities are not as scared as we imagine them to be…
---